Graphical Scientific Solutions: animations, stills, posters, models.
Let us help you in the improvement of your scientific communications.


---
NEWS
22/6/2015

Scixel in Nature Communications... in a very discrete way
---
18/5/2015

Benjamin Gollnick PhD. thesis cover
---
4/5/2015

Elements of Friction Theory and Nanotribology
Somehow, dont ask how, we made it to the cover of a Cambridge book cover. Perhaps it was the help of Dr. Gnecco... only perhaps...
---
21/4/2015

Scientific Audiovisual Productions
The title says everything. A newborn company devoted to the production of audiovisual material for scientists and researchers. We collaborate with them producing infographics and animations. Good luck!!!
---
17/4/2015

The T7 Bacteriophage delivers.
Researchers at the CNB (CSIC) studied the DNA injection dynamics of the T7 Bacteriophage. It is not obvious how viruses deliver their DNA, packed at amazingly high pressure, without damaging the cell.

This work has been awarded with the last JBC cover. It was requested by Dr. Ana Cuervo and Scixel did the scribbling.
Take a look at the paper.
---
17/4/2015

Just a Ribosome
---
31/3/2015

Off-Topic
Luis Frutos needed some equations for his last cartoon. I sent him the Maxwell's equations and some I developed during my PhD... of course, equally important!
---
27/3/2015

GrapheneLight
We've recently collaborated in the creation of the GrapheneLight logo.
---
13/3/2015

Studying DNA with single-molecule resolution
The kinetics of double-stranded DNA processing are captured at single-molecule resolution by F. Moreno-Herrero and co-workers with a thermally stabilized magnetic tweezers microscope.
This work, which is a collaboration between Madrid and Bristol has deserved the front cover of Small.

And by the way, Scixel did the drawings on request of Carolina Carrasco and Fernando Moreno with the collaboration of Benjamin Gollnick.
---
15/12/2014

Nano guiding of light
Osamu Takayama, David Artigas and Lluis Torner, researchers at ICFO were awarded with the Optics and Photonics December cover. And Scixel (proudly) was resposible for the design of it.
---
9/1/2015

Second year survival guide.

Still here! We are now two years old. And we have to thank everyone who has trusted us. Take a look at what we've done together.
---
15/12/2014

DNA Circuits
It was a promise for sometime, and then, the non-conducting nature of DNA spoiled all. Now, the work by professor D. Porath and coworkers, shows us that there is still hope.
Prof. Elke Scheer explains the whole story in the Nature Nanotechnology latest issue.
---
25/11/2014

Tunning the spin!
Lately, the work of Miguel Ángle Niño and co-workers has appeared in the inside cover of Advanced Materials. They have proved that electrons photoemitted from a metallic surface by excitation with an ultraviolet light beam become spin polarized as they cross a layer of adsorbed homochiral molecules.
The cover image was requested to Scixel by professor Juan José de Miguel at Universidad Autónoma de Madrid.
---
16/10/2014

Pataata Foto Website release
Nieves Alonso and Javier Trapiella release their new website. And Scixel has collaborated in its creation.
---
14/10/2014

So Close and Such an Stranger
The So-Close project has officially started. This is an outreach project on Condensed Matter Physics supported by the APS.

Our first job has been also a great one: an interview with professor Paul C. Canfield. Want to know what Condensed Matter Physics is? Take five minutes to listen carefully.
---
6/10/2014

Seeing through the skin... say what?!!
See behind a wall or through the skin. This quest leads physicists for over a century. To this end, they tamed the X-rays or ultrasound domesticated. But the visible light that we use every day, resists... until now.
Ori Katz et al (Lavoratoire Kastler Brossel) show us how is it possible to recover visible light images in their paper published in Nature Photonics.
We made this figure for the Langevin Institute upon request of Dr. Ori Katz. Remember the future science fiction promised us and reality stole? Flying cars, hoverboards? Well, seems that there is still a chance...
No doubt, one of the works that make you love your job. And it was done with the priceless help of Dennis Haupt.
---
6/10/2014

MEMS gas sensors jump into motion
Miniaturized electronic "noses" offer intriguing prospects, such as exhaled-breath analysis and environmental air-quality monitoring with portable devices and mobile phones. [Press Release]
We made this animation for the Molecular Electronics and Devices group a TUDelft upon request of Dr. Warner Venstra. Their work has been published in Nanotechnology.
---
15/9/2014

Light Scattering in disordered and non-reciprocal media
And now a very special request. A great scientist, and a very good friend of mine wanted me to help him with the cover of his tesis. The sad part is that is going to be a doctor. The saddest part, that he is probably going to leave Spain soon...
---
25/8/2014

Tiny graphene drum could form future quantum memory
Scientists from TU Delft's Kavli Institute of Nanoscience have demonstrated that they can detect extremely small changes in position and forces on very small drums of graphene.
Graphene drums have great potential to be used as sensors in devices such as mobile phones. Using their unique mechanical properties, these drums could also act as memory chips in a quantum computer.

V. Singh, S.J. Bosman, B.H. Schneider, Y. M. Blanter, A. Castellanos-Gomez and G. A. Steele have published this result in Nature Nanotechnology.
---
23/8/2014

Scixel places
Scixel can now be found in some other places:


---
24/7/2014

Defects in Catalysis
This is the image we prepared together with Amalia Gallardo and led by Prof. Javier Pérez-Ramírez for the Angewandte Chemie International Edition.
---
24/7/2014

DNA repairing itself: how to observe it... simply amazing
The group led by Fernando Moreno, at CNB, reviews the different single-molecule approaches available to characterize the structural features of the biological machinery responsible for the repair of the DNA strands.
You can access the article published at DNA Repair.
---
16/7/2014

Another important breackthrough in magnetoplasmonics
The MN-MP group has studied the magneto-optical activity of nanostructured systems which may find interesting applications in areas like sensing, optical communications, and isolators.
Their work has been awarded with the cover of the last Advanced Optical Materials Journal. Congrats!.
---
18/6/2014

Membrane Permeabilization Induced by Sphingosine
The group lead by Felix Goñi debunks an idea commonly held for years: not all membrane lipids are fully miscible.
Their work has been awarded with the last Biophysical Journal cover.
---
28/5/2014

The evolutionary tale of palladium-based catalysts
The group lead by professor Javier Pérez, tells us a tale about the evolution of palladium-based catalysts for selective alkyne hydrogenation, from bare to lead-alloyed, and, most recently, ligand-modified nanoparticles, is unlocked using flow chemistry. Distinctions in the performance of each catalyst system as well as accessibility constraints arising from the use of ligands are identified and rationalized.
Together with Scixel, they've being awarded with the cover of this month Chemistry A European Journal
And by the way, you should keep an eye on Javier Pérez's group. They don't only care about science but also about its link with society. And they are definitely funny! Look how they've decorated their lab.
---
25/3/2014

Silicon Hyperuniform Disordered Photonic Materials with a Pronounced Gap in the Shortwave Infrared
Professor Frank Scheffold's group, at Switzerland, has been awarded with the inside front cover of the february issue of Advanced Photonic Materials.
Scixel made this image using their actual measurements of the silicon structures.
Another image of the same experiment appears in the press release.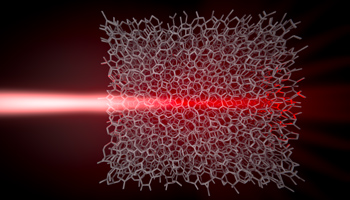 ---
13/3/2014

Molecular-Level Understanding of CeO2 as a Catalyst for Partial Alkyne
Hydrogenation
In this work, the unique catalytic properties of ceria for the partial hydrogenation of alkynes are examined for acetylene hydrogenation. This important research has been awarded the cover of The Journal of Physical Chemistry C.
Javier Carrasco, Gianvito Vilé, Delia Fernández-Torre, Rubén Pérez, Javier Pérez-Ramírez and M. Verónica Ganduglia-Pirovano are the (happy) researchers behind this work.
Scixel help them to represent the chemical reactions that take place on the Ceria surface.
---
11/3/2014

Leaving Science... for a little while
We have been lately collaborating with our friend Irene Mohedano in the developement of her brand new website. She is an artist to have in mind!
---
6/3/2014

Pulling Polymers Leads to New Insights into their Mechanical Behavior
In collaboration with colleagues from Berlin and Madrid, researchers at the Department of Physics at the University of Basel have pulled up isolated molecular chains from a gold surface, using the tip of an atomic force microscope (AFM). The observed signal provides insight into the detachment force and binding energy of molecules. The results have been published in the renowned scientific journal PNAS.
Scixel worked with them in the cretion of this image which illustrates a detachment event.
Press releases have been published in the university of Basel (Switzerland) and in the Japan Science and Technology Agency (Japan).
---
12/1/2014

First year survival guide.
Against all odds, some people liked the Get over it!, the song we made for our last demo reel. Here is for you to download!
---
09/01/2014

LS-Instruments
We have just finished a very interesting work for the Swiss Company LS-Instruments: the recreation of their light scattering measurement devices for their website. They are, no doubt, a company to follow!
---
29/12/2013

First year survival guide.

We are now celebrating our first birthday. Against all odds, we are still alive! Alive and happy. Things are going surprisingly well and it is all because of our customers and friends. This is a small piece of the amazing science they have done during this year. Enjoy it!!
---
26/11/2013

IFIMAC
The new Condensed Matter Physics Center (IFIMAC) releases its webpage, designed and created by Scixel. With a h-index of 104, the IFIMAC and i ts researchers is a center to follow.
---
19/11/2013

MoS2 Mechanical Resonators
The Molecular Electronics and Devices Group, at Delft University of Technology study the mechanical properties of single-layerer sheets of MoS2. The MoS2 sheets, excited with laser beams, act as mega hertz resonators.
This work has been published in Advanced Materials and its importance has make them get the inside cover of the magazine.
---
22/10/2013

Funny gecko

Working in a big project this came nearly as an accident. It was funny enough to make a video out of it. Enjoy it!
---
18/10/2013

Nanotec Electrónica, by Paloma Banderas.

Paloma Banderas, supervised by Dr. Adriana Gil, explains how Nanotec Electrónica works. This spanish company does not only make highly sophisticated force microscopes. They are also known by their personalized service. As scientists, they are always pushing technology forward in order to satisfy their clients needs in the most efficient way.
Scixel collaborated in the production of the video with a tiny piece of animation, requested by Paloma Banderas.
---
14/10/2013

Condensed Matter Theory and Simulation Group
We have recently published the "Condensed Matter Theory and Simulation Group" website at UAM.
---
16/9/2013

Real time dissasembly of human adenovirus.

Researchers from Universidad Autónoma de Madrid, Princeton University and Centro Nacional de Biotecnología (CSIC) have first caused and then measured in real time the disassemby of of the individual pieces conforming the human adenovirus. The experiments reveal the consequences of the physical changes induced by the maduration process in the transformation of inocuous virus into infectious virus. [Read the article in spanish]

Scixel has collaborated in the creation of the 3D models.
---
6/9/2013

Structural Characterization of the Bacteriophage T7 Tail Machinery.
A recent work by Dr. Ana Cuervo (at CNB) has deserved September's Journal of Biological Chemistry Cover. Scixel has been fortunate to create the image. In the cover we see a T7 bacteriophage infecting Gram-negative bacteria Escherichia coli. The capsid containing double-stranded DNA is shown in blue, and the protein complex uncharged of DNA delivery (tail machinery) is shown in yellow. See the paper here
---
13/6/2013

A current-driven single-atom memory.
This summer C. Schirm, M. Matt, F. Pauly, J. C. Cuevas, P. Nielaba and E. Scheer have described the operation of a single-atom switch. This would open the door to the extreme miniaturization of non-volatile information storage devices.
---
2/9/2013

African Swine Fever Virus (ASFV)
Covadonga Alonso together with her group at INIA, are unveiling the ASFV replication and genomics. This animation shows the detailed process of the infection, much better explained in their article at Virus Research.

---
25/7/2013

Scixel
This is what we do.
---
5/7/2013

Convection Superhighways
At the microscopic level as the ocean level, the liquid flow by convection and under certain conditions are organized in a single row. A research group of the Department of Physics at the University of Freiburg, led by Prof. Frank Scheffold, contributed to this interesting discovery in the field of the physics of fluids.
Take a look at this Beautiful work published in Physical Review Letters.

The experiment:


Images of the convection columns: the dark zones are associated to the hotter liquid.

---
1/7/2013

AddAB protein travels through DNA to repair it!
Using magnetic tweezers, the group led by Fernando Moreno has studied the dynamics of the AddAB molecule on its trip along the ADN molecule (paper). An amazing work that reveals the importance of this protein and increases our understanding on the DNA repairing process.
---
13/6/2013

On heat dissipation in atomic-scale junctions.
We can proudly say we have had the opportunity of working with two amazingly talented people in the creation of two images for
Nature
: Prof. Juan Carlos Cuevas (
UAM
) and and Prof. Pramod Sangi Reddy (
University of Michigan
).
---
10/6/2013

Legacy Release
After a year of hard work, Legacy has finally been released. Enjoy it in HD.


Scixel, with the help of three artists, has directed and produced this short movie.
---
1/6/2013

Legacy
Legacy is about to be finish!
---
20/4/2013

PlasmoNanoQuanta
We have just finished the
PlasmoNanoQuanta website
.
It's been a real honour to work for the Nanophotonics group at UAM, a globally recognized scientific group, leaded by prof. Francisco José García Vidal.
---
28/3/2013

Virus Research Cover.
Scixel has participated in the creation of the last
Virus Research Cover
on a special issue on the
African Swine Fever Virus
.
Covadonga Alonso from the INIA (among others) has written a special review on this hot topic.
---
11/3/2013

Legacy (trailer)
Scixel is collaborating in the production of Legacy: a short movie which answers the big question.
---
1/2/2013

Advanced Optical Materials Inside Front Cover.
Scixel has been very fortunate to work with the
MN-MP group
(
Madrid Microelectronics Institute
). Their work was awarded with the Inside Front Cover in the
Advanced Optical Materials magazine.
Gaspar Armelles, Alfonso Cebollada, Antonio García-Martín and María Ujué González have written a review in Advanced Optical Materials on how the combination of plasmonic and magnetic functionalities gives rise to magnetoplasmonic systems, where both the magneto-optical and plasmonic properties can be engineered.
---
26/1/2013

Algenex new product: Top-Bac
Brief extract of Algenex's promotional video of their new product, Top-Bac.
License

---
21/1/2013

Scixel goes Natured!!.
One of our images appears in
Nature Photonics Vol. 7
:
Optically induced 'negative forces'
.
The figure represents a beam of light attracting a small particle. Optically induced "negative focers" are, in this article, postulated to be real. This is the principle of the science fiction, so called, tractor beams!
---
14/1/2013

Four covers we expect to see quite soon...
---
8/1/2013

Dielectric nanoparticles: Polarizability reveals identity.
We have recently being published in Nature Materials News and Views. This is the artwork we sent to illustrate two different techniques to measure dielectric polarizability at the nanoscale.
---
Check out our new demoreel!
---
Plotting with WebGL.
WebGL
is an amazing new tool
(whose development is still in progress)
that will be very popular among scientists.
---
A study on wavy solutions